13 Hangmen
Abrams, 2012
When
Tony
DiMarco
unexpectedly inherits his great uncle's town house in Boston, he finds himself in the middle of a murder, a mystery and a treasure hunt spanning three hundred years of American history.
"This Boston-set novel stars 13-year-old Tony, who must solve a historical mystery and features many local landmarks and figures."
—Boston Sunday Globe
2013 Edgar Award nominee for Best Juvenile Fiction. Featured in the 2012 Boston Sunday Globe Young Readers' (Nonrequired) Summer Book List.

"This is an exceptionally good story, with a wry, humorous tone that has particular boy appeal. It covers baseball, history, sibling rivalry, girls and mystery, and folds in the space-time continuum... The fun is multi-layered, and the historical characters range from Ted Williams to Paul Revere to Mayor John "Honey" Fitzgerald, grandfather of JFK and early advocate of multiculturalism."
—School Library Journal

"Ghostly fun in old Boston... Readers who love history [will] find themselves happily immersed in the fascinating tale."
—Kirkus Reviews

"Corriveau ably uses the boys' tales to weave historical elements into his story, including cameos from Ted Williams and Paul Revere."
—Publishers Weekly

Read more...
"Recommend this engaging historical mystery to readers who devoured Dan Gutman's Baseball Card Adventures series and are ready for longer, more complex stories."
—Booklist

"Corriveau merrily ransacks historical episodes and figures... and spins, twists, and manipulates their stories to advance the DiMarco family mystery. The result is a novel that agilely balances humor and tension and comes clean in the end regarding the many liberties taken with the historical record."
—Bulletin of the Center for Children's Literature

"In a riveting tale stretching through time, Tony receives Ted Williams's rookie year Red Sox cap from his great uncle, and on his thirteenth birthday inherits his suddenly deceased uncle's home at 13 Hangmen Court."
—School Librarian's Workshop

"This was an interesting book, not quite historical fiction, not quite fantasy, but some of both. The story centers on Boston and the Red Sox, but goes back to the time of Paul Revere. A bonus is that the author has included notes about what is real and what is fiction for several important story elements. Although teens are the main characters, the adults are not complete idiots; a pleasant change from many books today. All in all, a good story. "
—Library Media Connection

"An adventure combining time-travel, mystery and treasure. Set in the attic room of an historic Boston home, Tony and his friends work together to decipher historical events that solve a present-day mystery."
—Oklahoma Metro Family Magazine's "Great Reads for All" (June 2012)

"Readers will get a lively crash course in Boston history and a mystery with a murder and a lost treasure. They meet Tony, a likeable kid with a wry sense of humor… The author does a creative job of merging history and fiction. This would be a good book for families to read together before setting out for Boston, the Freedom Trail, or Salem this summer."
—Florida Times-Union (Jacksonville.com)

"This book is so much fun. Everyone should read it, age doesn't matter… This story makes you think about all the little incidents in history that led to the big events we learn about in school. It makes you want to discover things, research, learn something."
—Examiner.com (Tulsa)

Under the big umbrella of fiction, the mystery of 13 Hangman has you turning each page eager to discover what comes next. From the book, you learn that knowing the history about a person, place or thing can be very important. If you love mysteries, then you'd probably love 13 Hangmen by Art Corriveau.
—Creative Kids Magazine (Reviewed by Mofe Akinyanmi)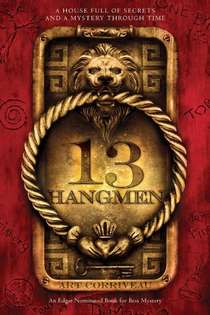 Paperback edition, 2013.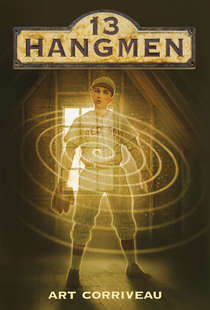 Original hardbound edition, 2012.