Blood Pudding
Esplanade, 2007
Woven together by common threads of love and loss, this heartwarming collection chronicles the broken lives of people on the margins and the families and friendships that piece them back together. From a street kid in Montreal and a priest in Burkina Faso, to the mother of a bride in Boston and a blind woman in Amsterdam, crisis gives rise to magical moments of shared recovery. Serving up equal portions of drama and resolution, these offbeat tales offer a
glimpse
into the universality of the human condition.
"Art Corriveau writes poignantly and unsentimentally about characters caught up in difficult, almost unbearable, situations. But he's equally aware of the redemptive power of loving relationships and family ties."
—Time Out London
Note: These stories deal with mature themes and subject matter that may not be suitable for children. Parent discretion is advised.
"Art Corriveau's versatility is impressive: He writes men and women, gay and straight, blind and sighted, with equal verisimilitude...Corriveau is at his best with the relationships between people, where he almost always hits the perfect balance between illustration and exposition."
—Montreal Review of Books

"These stories are convincingly rendered, with a quiet and controlled use of language that persuasively evokes place and character... Corriveau has penned a rich and varied contribution to the short story form."
—Toronto Globe & Mail

"These are wonderful stories, beautifully written, evoking a world and a time that are fascinating. I read the book in one sitting."
—Lynn Freed, author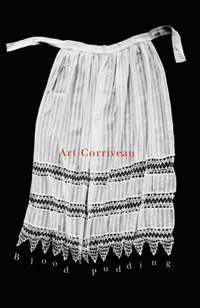 Paperback original, 2007.